Shadowridge Senior Living provide support for seniors who need assistance with the activities of daily living (ADLs). We offer:
Medication management
Restaurant-style dining
Bathing, grooming, and dressing assistance
Toileting assistance and incontinence support
Transfer assistance for those dependent on a walker or wheelchair
Laundry and linen service
Activities and outings
Hospice services
How do I know if my loved one is right for Assisted Living vs a Memory Care?
Assisted living communities and memory care communities differ in important ways. Residents in assisted living arrangements maintain cognitive independence. While they may need physical assistance with the activities of daily living such as bathing and dressing, they are able to make decisions for themselves. In a memory care community, residents may not be cognitively capable of making decisions for themselves. Memory Care residents may need additional support, as well as the security of a secure campus to prevent wandering into dangerous circumstances. Memory care teams may need to prompt or remind residents of their daily routines, especially during personal care and mealtimes. They may also need to encourage residents to join activities and remain engaged throughout the day. Activity and social interaction encourage brain function and help those we care for maintain their confidence and sense of purpose.
If you are not sure which services would best fit your loved one's needs please reach out to us, we are here to help.
Our services are hand-tailored to the needs of our residents. This includes our cuisine as well as our care services. Here's a selection of our services.
Shadowridge Senior Living offers both private and semi-private amenities. All rooms have large windows that overlook our beautiful grounds. Some rooms also offer private access to a patio or balcony.
Our caregivers work with families to craft a personalized care plan for each resident based on his or her needs, habits, likes and dislikes.
All residents enjoy daily personal care, housekeeping, and laundry services.
We offer an in-house beauty salon for relaxing and pampering residents.
Our private chef prepares delicious, healthy meals for breakfast, lunch and dinner. Snacks and drinks are available by request at any time.
Residents may choose to dine in our beautiful sunroom, which adjoins the dining room.
Our nursing staff remains on-site 10 hours a day to help with medication management and ensure our residents receive the care they need, when they need it.
Our activity program enhances friendships among residents and keeps them engaged on a regular basis. Activities are designed around the interests, specialties, and talents of the individuals in our care.
We offer services for residents with diabetic needs including insulin injections.
Hospice services are available through an outside provider.
We love our families! Family members are welcome and encouraged to spend time with us whenever they can. Our common areas are stocked with games and other forms of entertainment so families can enjoy being together.
We provide a wide variety of healthy, filling meals for our residents. This even includes vegetarian and vegan food options with respect to the individual preferences of every resident. We are always aware of allergies and of course personal taste, which is why we provide several choices, including gluten-free and kosher food options.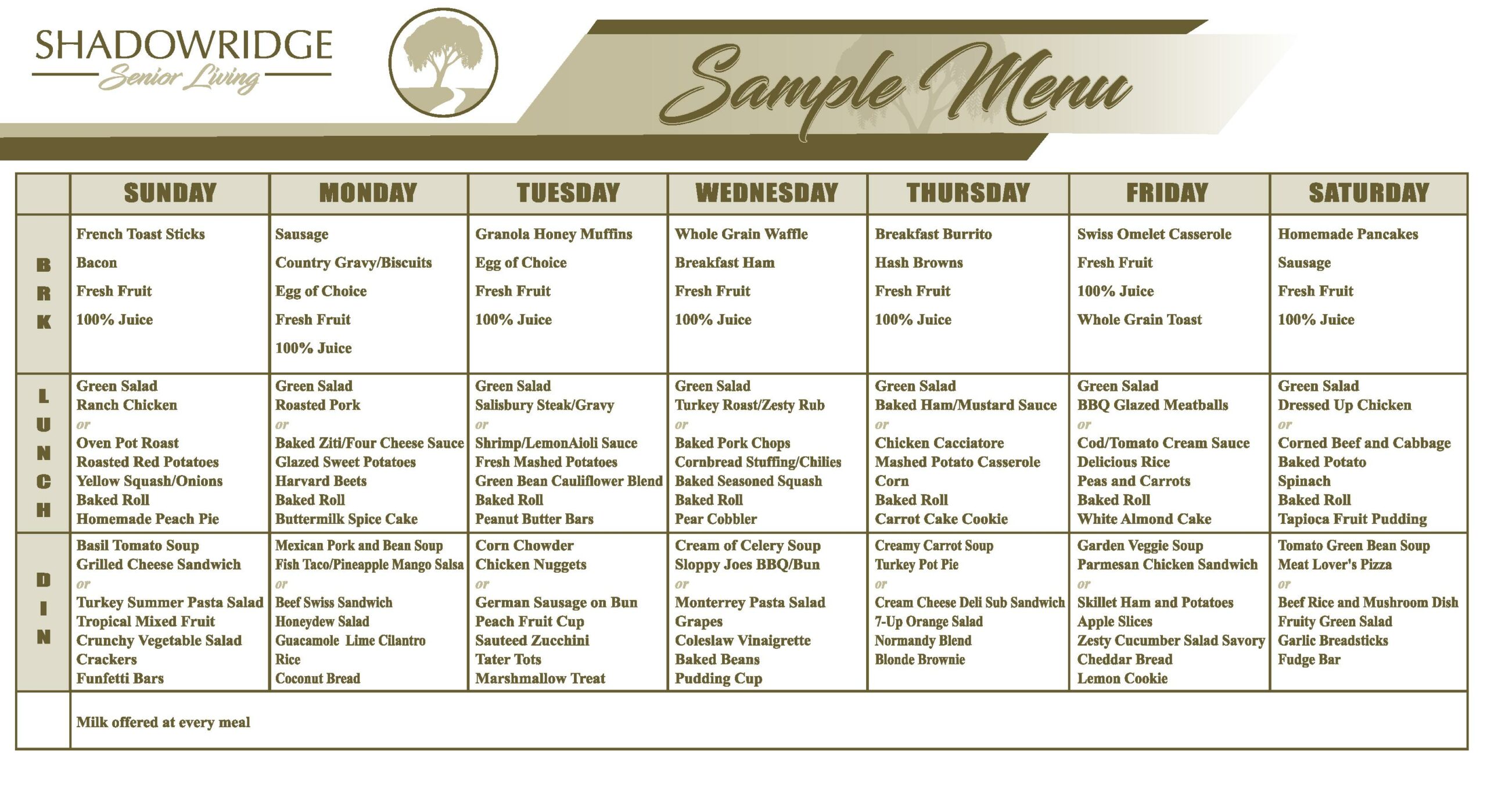 Shadowridge Senior Living
2354 Watson Way, Vista, CA 92081
F: (760) 295-3680