Wintertime is notorious for being a difficult season for many. Shorter days, colder weather, less time spent outdoors and in the sunshine: all of these are contributing factors to feelings of depression, sadness, and loneliness. The holiday season may be behind us, but winter is only just beginning. 
However, there is good news! While the change of seasons is inevitable, there are still ways to overcome the winter blues. So whether you're a resident at a senior living community in Vista, or are a caregiver or loved one of an older adult, we have six great tips you will want to check out!
1.) Get Creative
If you are stuck indoors, now is the perfect time to try something new! Has there ever been a hobby you wanted to try but never had the time? What about a craft or art project you never got around to finishing? There are so many wonderful hobbies that you can participate in that don't require you leaving the comfort (and warmth!) of your home. A few good examples include knitting, sewing, coloring in adult coloring books, calligraphy, baking – you name it, and you can learn it!
On the plus side, learning a new hobby or skill is actually really great for your brain, too! In fact, it helps create new neural connections in your brain as well as helping to strengthen old ones, which contributes to cognitive health, especially for seniors. Also, if you have anxiety, repetitive crafts like sewing or crocheting can actually help calm the mind.
2.) Try Meditation
Mindfulness and meditation is a good practice to engage in year round, but it can be especially helpful for seniors who are facing seasonal depression. Practicing these techniques help center your mind, body, and spirit. It is easy to feel like things are falling out of your control or that you're losing track of vital information. However, meditation can help you to refocus rather than overthink.
There have also been studies conducted that show that meditation and mindfulness can actually help alleviate some of the symptoms of chronic pain and depression. You don't have to take a professional class or try meditating for hours on end. Even taking just a few minutes each morning when you wake up to get centered can really make a difference.
3.) Get Moving
When the weather gets cold and a blustering wind kicks up, nothing sounds better than curling up in a blanket and vegging out with a good book or a TV show. While this is great every now and again, it is also important to keep moving. Exercise is great for both the mind and body, and even doing some physical activity is better than none at all
If you're a resident at our senior living community in Vista, then you have access to a wide range of activities! Check out our daily events calendar and you will see great options, such as morning walks, tai chi, 'feelin' fit', balloon volleyball, and so much more! 
4.) Watch Your Favorite Movie
Everyone has a favorite film they love and can watch countless times and still enjoy. If the weather outside is frightful, cue up something delightful! An added bonus if this movie makes you laugh. Let it stir up feelings of nostalgia as you think about the best times you watched the film before. Maybe with your best friends in high school, or on a first date with your spouse. Nothing will help shake away the winter blues like a good laugh or taking a stroll down memory lane.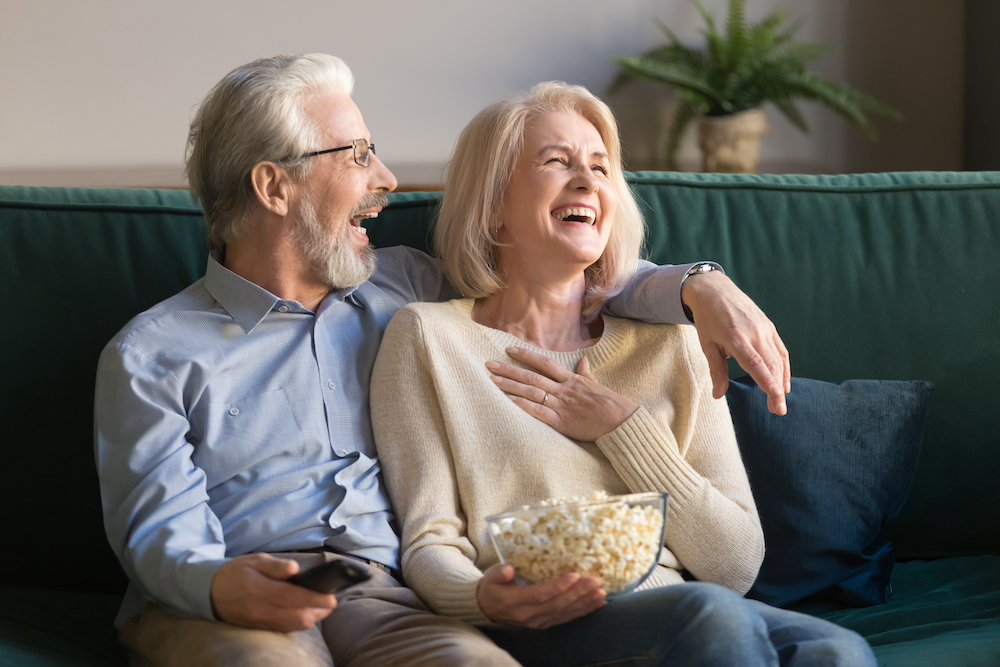 5.) Don't Be Afraid of Technology
We understand that technology can feel a bit daunting sometimes. Touch screens, WiFi, apps – it can seem overwhelming, especially at first. However, if you are able to take some time to learn a little bit about technology, and get a tutorial on the very basics, you can be connected with your friends and family around the world, all at the press of a button!
For example, video chat platforms such as Zoom and Skype allow you to not only talk, but see each other, too! Laying eyes on the smiles and faces you have missed so much will surely boost your spirits. Or, you can even play games from afar by using different apps. This can include the classics such as chess, checkers, Pictionary, and so much more!
6.) Turn Off the News
While it is important to stay informed and know what's going on in the world, sometimes, the most important thing you can do for your mental health is just simply click off the news. Whether it be about a beloved actor passing away, or more updates about the ongoing COVID pandemic, taking a step back and away from the consistent onslaught of negativity will allow you to catch your breath. After all, it is extremely difficult to focus on all the good things in the world when all we are shown is bad.
Instead, call up a friend or loved one and chat about good times in the past. Turn to your favorite book or movie with a happy ending. Talk to other residents and chat about grandkids, accomplishments, and what you're looking forward to about springtime. 
7.) Ask for Help
While this tip might seem the most basic or obvious, it is the most important by far. Even if you are doing everything else we've suggested and you've learned to sew, you video chat with your family twice a week, you go on a walk every day, it is still more than possible to feel sad and depressed. Winter blues and feeling sluggish happens and can be shaken off. SAD, or seasonal affective disorder, can be a lot tougher to manage.
If you think that this is a chronic issue, talk to your doctor or reach out to one of the staff members here at Shadowridge. Asking for help might seem scary at first, but we are not here to judge. We want all of our residents to lead their happiest and healthiest lives through their golden years.