Now that winter is here and in full swing, it's important to find activities that are equal parts fun and stimulating while staying indoors, especially for older adults. While we can still get out and about some depending on the weather, it is safest for seniors to minimize their time spent out in the elements. This is even more pertinent if the older adult in your life has issues with mobility.
That being said, board games are a great idea! Cards, dominos, chess, you name it! However, you can even shake things up and grab one of the newer games on the market. If you have a senior loved one who lives in one of the retirement communities in Vista, CA, you will want to check out this list!
Benefits of Playing Games
Physical exercise is important, but so is a workout for our brain! Mental exercises help keep our minds sharp and can be stimulating, even as we age. 
Did you know that even 5 minutes of doing a puzzle can boost your brain function? In fact, those who play games on a regular basis are more likely to stay mentally sharp. Those who play into their 70s actually have better odds of maintaining certain critical thinking skills even as they age.
With issues such as dementia and Alzheimer's a continuous concern for aging adults, opting to play cards or board games can be a great way to keep yourself focused and sharp. Check out the list of benefits you can get from playing games:
Workout for the Brain:

It can actually help prevent the development of dementia by boosting memory and cognition.

Positive for Mental Health:

Playing games provides a positive impact on overall wellbeing and mood.

Increased Socialization:

Playing games is the perfect opportunity to spend time with family or friends! Plus, so many are great for folks of all ages, so if your senior has grandchildren, this would be a great way for them to connect. This applies whether in person or virtually.

Increased Attention to Detail:

Sometimes, as we age, it can be difficult to stay focused or on task. However, board games and cards help to increase concentration and improve our overall attention to detail.

Learn a New Skill:

Regardless of your age, you are never too old to learn something new and have a little (or a lot!) of fun doing it. 
Sit Down Games
The importance of sit down games cannot be underestimated. For those who reside in one of the retirement communities in Vista, CA, this can include a multitude of activities such as jigsaw puzzles, crosswords, word searches, and of course, board games! 
Take the time to sit down, relax, and maybe even make up some of your favorite snacks and beverages. Put on your senior's most treasured tunes and make a whole night of it. This is an especially great idea if your older loved one struggles with mobility issues. Plus, it's a great way to create a nostalgic mood and bring back memories.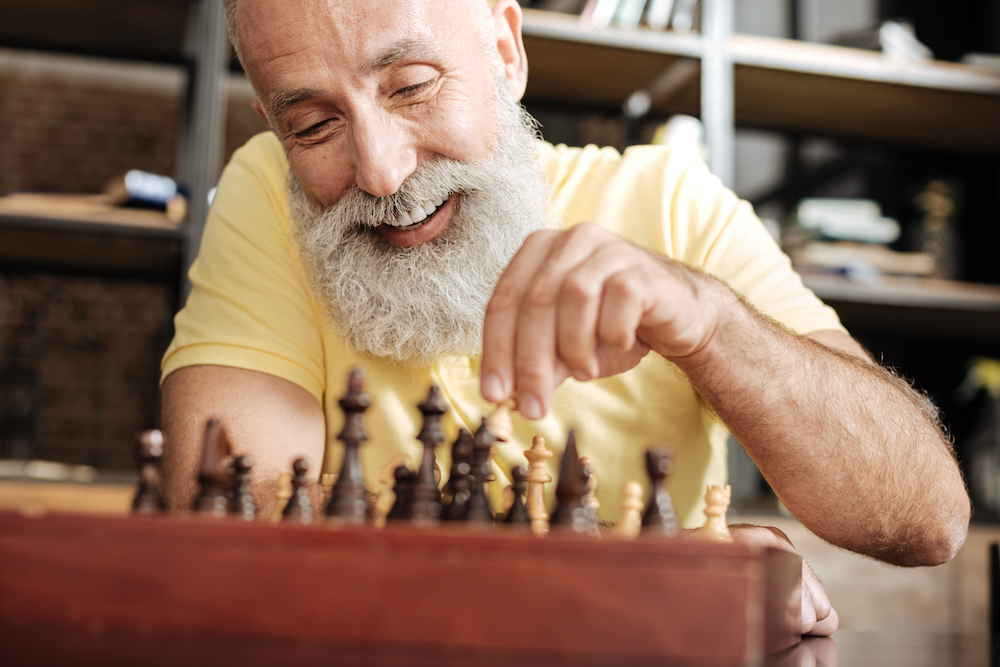 The Best Board Games
Without further ado, check out our list of these great board games:

Scrabble
This is a timeless classic! Scrabble helps to increase brain power and improve vocabulary memory. This game can be played with two to four players, making it ideal for small, more intimate settings. Plus, did you know that it is even available in larger print tiles? This would be ideal for older adults who struggle with eye-sight issues.
Bananagrams
While it has a silly name, it is actually great for boosting brain activity! While similar to Scrabble, this game doesn't take as long. It's fun, fast, and comes in a cute banana shaped bag. If you're looking for something different to do, grab Bananagrams for your next board game night!
Big Boggle
Another great word game that is ideal for boosting memory is Big Boggle. This game features a grid of lettered dice and players have to create as many words out of the letters as they can before the time runs out. This can be played solo or with others. As an added bonus, Big Boggle has larger letters that are easier to read. 
Connect Four
Connect Four is a logic game that is the perfect choice if you senior wants to play games with a younger relative, such as a grandchild. It is a simple game, but players can get through quickly. Don't be fooled, though – some folks can get pretty competitive! 
Chess
If you want to talk about a classic choice, chess is a great go-to. Chess is centuries old and beloved around the world as a game that builds logic, critical thinking, reasoning skills, and requires an intense amount of patience and focus. No two games are the same, as every opponent comes up with a different strategy. Your senior can play with a loved one or caregiver!
Or, if your senior has a tablet or smartphone, they can have the chess app on their phone and play with either an AI (artificial intelligence) or a friend who also has the app. Playing virtually is a great way to stay connected with friends and family who live far away but still want to spend time with the beloved older adult in their life.
Monopoly
For those who live in one of the retirement communities in Vista, CA, Monopoly can be an enjoyable activity for a group of friends. This particular game relies on logic, strategizing, and the use of tactics to win. Plus, a lot of math and calculations are required to be the banker!
Activities at Shadow Ridge
Here at our senior living community, we know the value of sit down board games. That is why they are a recurring feature on our activity calendar. However, the fun doesn't stop there! Arts and crafts, music classes, Bingo, adulting coloring – you name it, and our residents enjoy participating! We strive to offer a variety of activities that are fun, stimulating, and appeal to a wide variety of our residents.